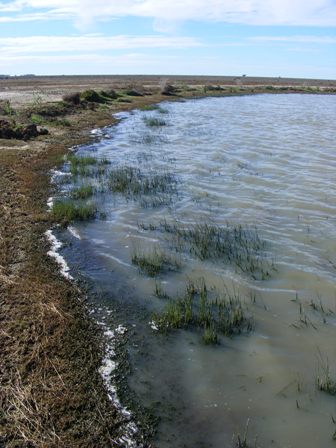 Tuesday 25th June 2013 saw almost 30 people get together to brave the chilly wind and visit recently completed works near Gunbar, where landholders are converting existing groun tanks into wetland habitat areas. These habitat areas will remain after the new Wah Wah Pipeline goes in and many of the tanks in the surrounding landscape are decommissioned.
More pictures from the field day are available in the Photo Gallery.
It is hoped that the sites visited at 'Sunrise' and 'Yurdyilla', along with the sites underway on several other properties in the district, will serve as an inspirational example to many landholders in the region who may have similar tanks or 'wet areas' on their properties that may be easily converted into wildlife refuges.
For more information about the 'Wah Wah: Water for Wildlife' project please visit the project page.
A free copy of Wah Wah Water for Wildlife: How to make biodiversity the winner in a time of change - A practical guide for landholders by ecologist Matt Herring was provided to all field day attendees.
Interested landholders may pick up additional free copies of this management guide from the Hay government offices, or download a digital copy below.
Laurissa Smith from ABC Rural interviewed Matt Herring and several Wah Wah landholders involved in the project - Listen.